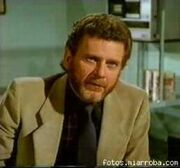 Chase Gioberti

Series

Falcon Crest

First appearance

"In His Father's House" (1981)

Last appearance

"Desperation" (1987)

Married to

Maggie Pershing (divorced)

Occupation

Pilot for Allied International Airlines
Owner of Gioberti Enterprises
1/3 Owner of Falcon Crest
Member of the Tuscany Board of Supervisors
Member of the Board of Directors of The (New) San Francisco Globe
Partner in Tuscany Downs

Parents

Jason Gioberti
Jacqueline Perrault

Siblings

Children

Relatives
Chase Gioberti (born Charles Gioberti) is a protagonist on Falcon Crest and a member of the Gioberti family.
He was portrayed by
Background
Edit
Charles ("Chase") Gioberti is the son of Jason Gioberti and Jacqueline Perrault, and was born on Falcon Crest.
When he was a little older, he lived with his father and later, his parents divorced. His mother took him to Paris, where he remained for years until he left and went to New York. After his graduation from the Air Force Academy, he became a captain in the Air Force.
Later, he married Maggie Pershing, and they had two children: Cole and Vickie.
His father's death was a shock for Chase. A call from his aunt Angela Channing from California brought the bad news: Jason Gioberti was drunk at the wheel and drove himself down a cliff. He traveled with Maggie to Tuscany Valley for his father's funeral.
He began a passionate new life as a winemaker and member of the community, as a county council, becoming involved politically for the needs of the population in the valley.
Angela Channing wants to drive him out of Falcon Crest.