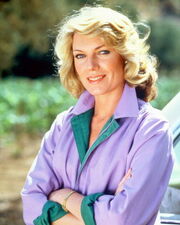 Maggie Gioberti Channing

Series

Falcon Crest

First appearance

"In His Father's House" (1981)

Last appearance

"Desperation" (1987)

Married to

Chase Gioberti (divorced; deceased)
Richard Channing

Occupation

Freelance writer
Reporter for The (New) San Francisco Globe
Author
Reporter for KRDC
Owner and Editor-in-Chief of Tuscany Herald

Parents

Charlotte Pershing

Siblings

Children

Cole Gioberti
Vicki Gioberti
Kevin Gioberti

Relatives
  Margaret "
Maggie" Channing (nee Pershing/Hartford; formerly Gioberti) is a warm-hearted but resilient woman, who becomes the sympathetic heroine of Falcon Crest.
She was portrayed by Susan Sullivan.
Background
Edit
Maggie was still young when she asked her parents to be allowed to marry Chase Gioberti, they had only just met. She stayed in New York with her parents and younger sister, Terry.
She later gave birth to two children: Cole and Vickie. Their first few years of marriage was not easy, because Chase spent five years in Vietnam, and she had to raise her children alone.
In addition to being a full-time mother, she had a part-time gig, writing articles for various magazines and newspapers.
Even when Chase returned from Vietnam, she had to continue to support her family, because Chase was rarely at home because he was a pilot for a major airline.
It cost them a lot of motivation to leave New York and move to California. Maggie loved New York, but she also loved the dream of her husband operating a winery in Tuscany Valley.